Toddler Cutlery for 12 Months old Plus
Multi-Award Winning Nana's Manners Toddler Cutlery
Perfectly Sized to be Easy for Toddlers to Use
Perfectly Designed to Support Your Child's Development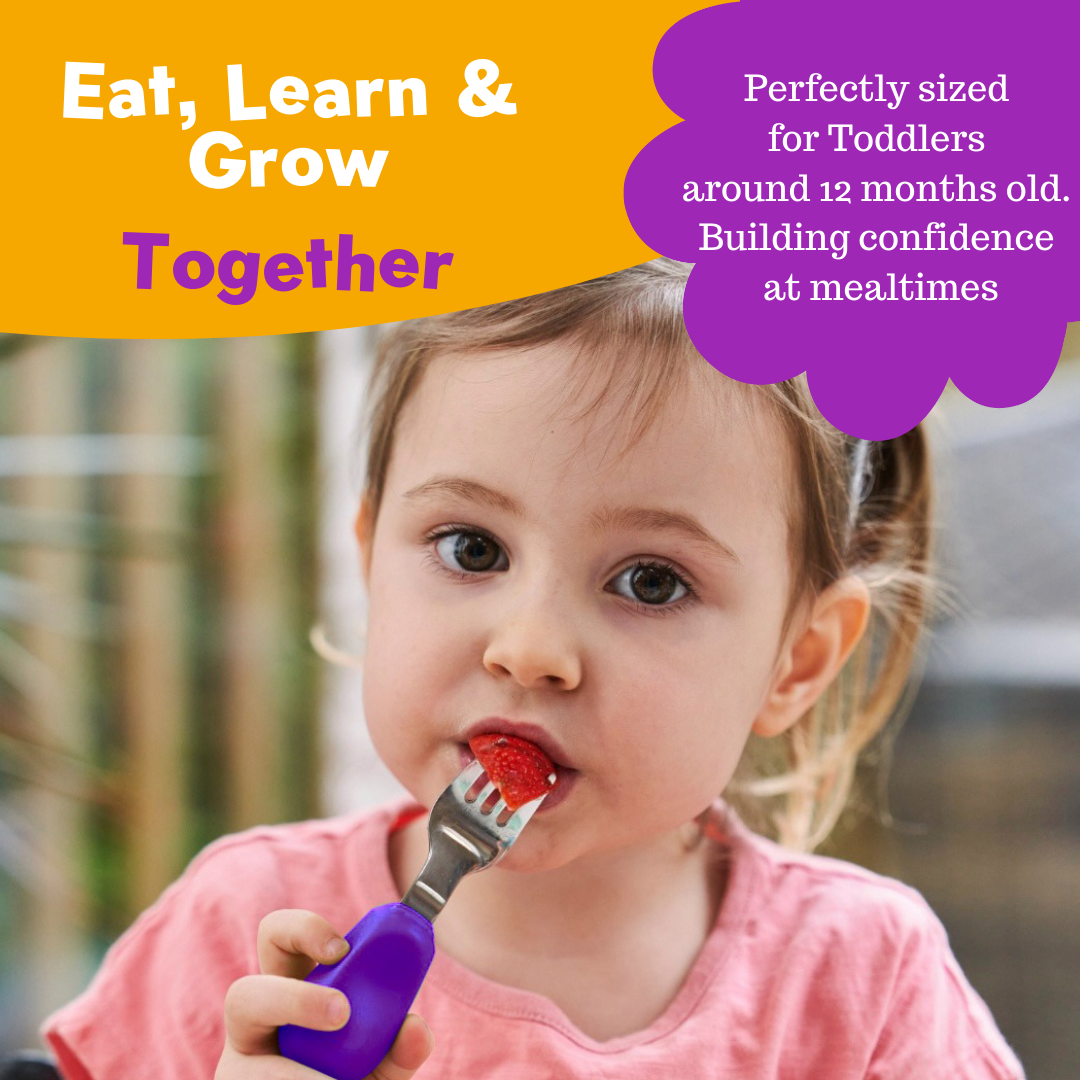 Learning and Building Confidence at Mealtimes
PerfectlyPerfectly Designed for Toddlers Hands and Mouths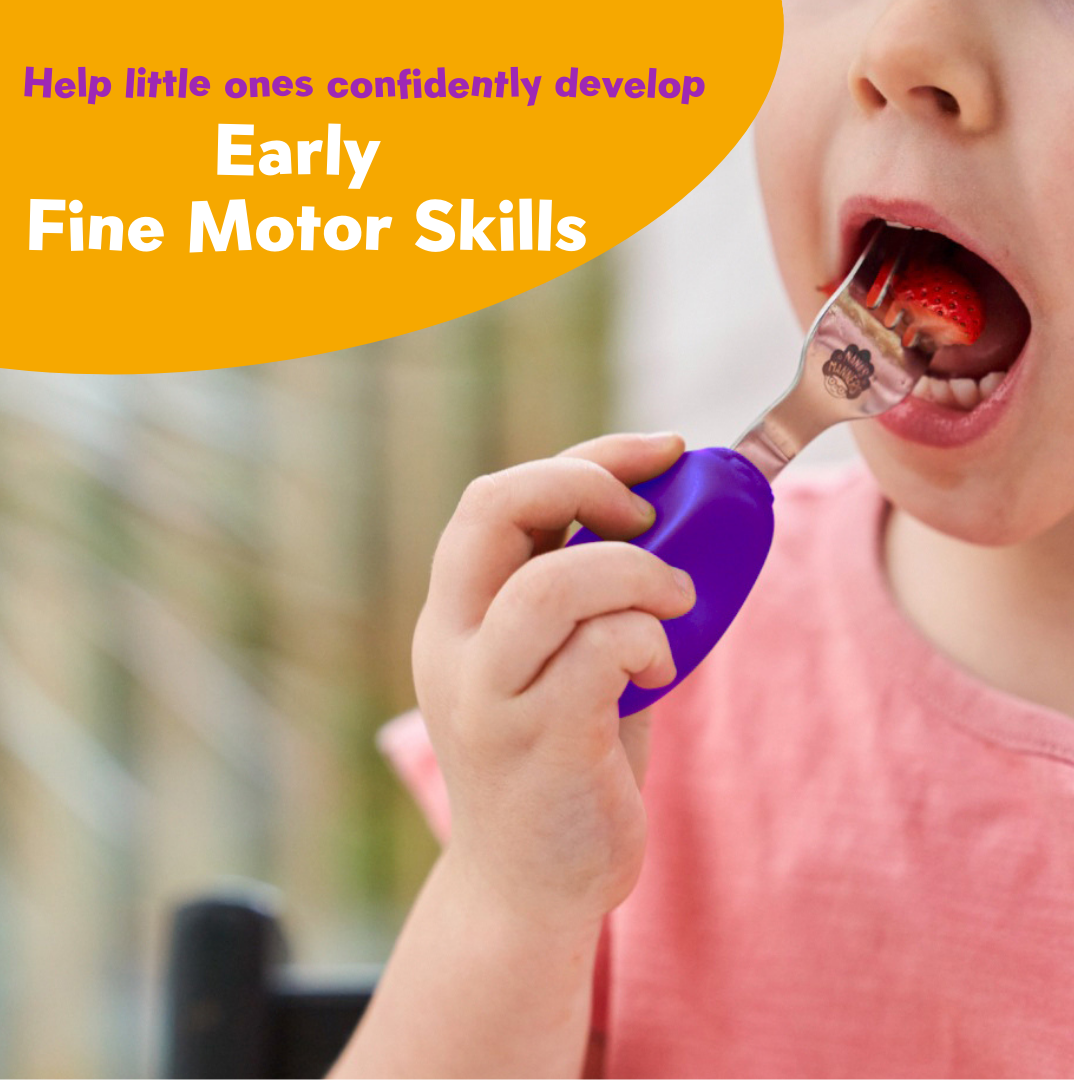 Continuous Grip Development for Toddlers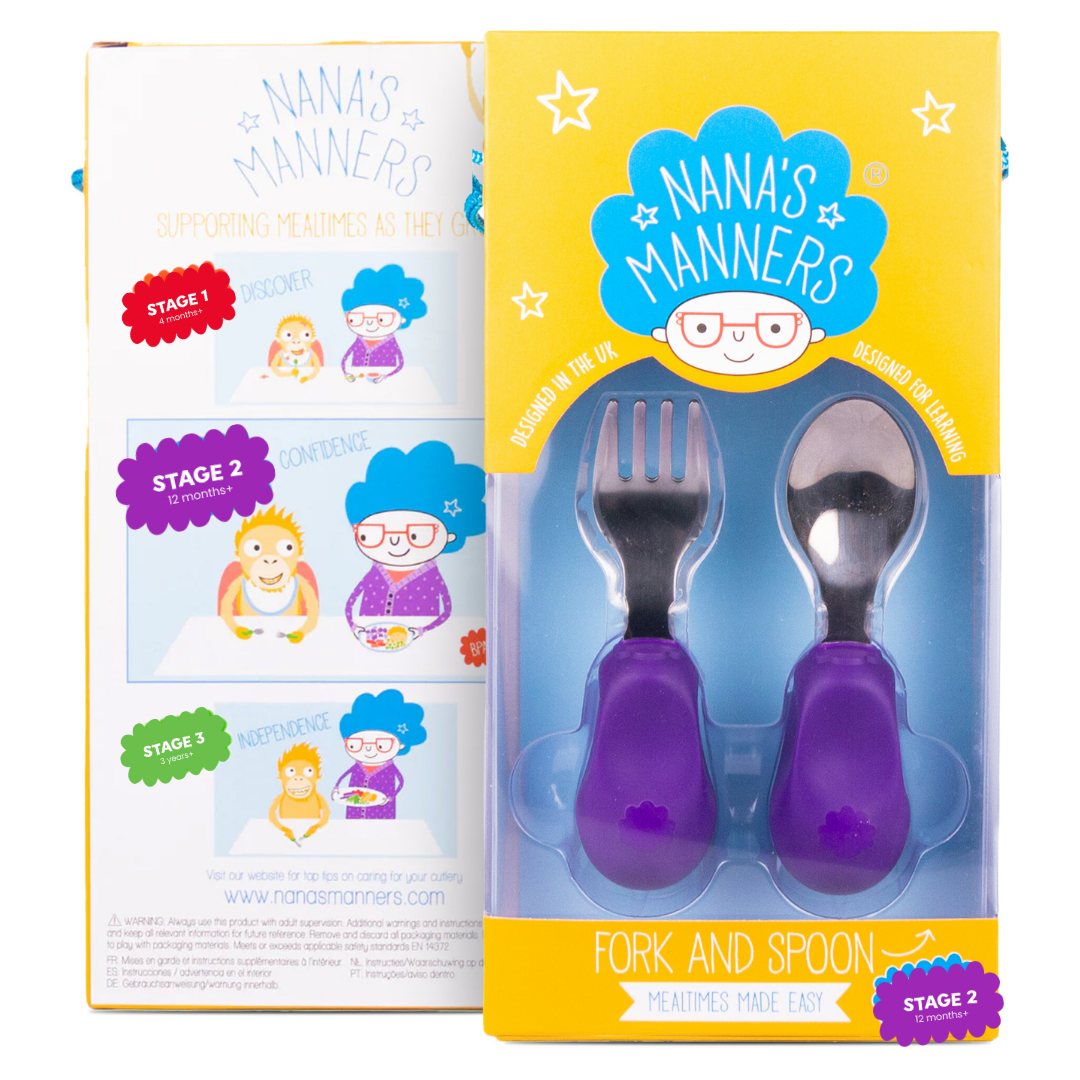 Stage 2 Toddler Cutlery Recommended by Experts
Toddler Cutlery - Purple

Pincer Grasp
Supports grips at the toddler stage of development. Rounded bowl shaped prongs made from food grade high quality stainless steel to build confidence at mealtimes.

Grasp Development
The indentations of all 4 sides allow all fingers to be supported comfortably whilst toddlers work on their fine motor skills and co-ordination as they eat.

BPA Free food grade high quality material
The short, soft-touch handle sits comfortably in their palm building their confidence at every mealtime!

Tested to British safety standards and Global safety standards
Used, Approved and Trusted by nutritionists and pediatric specialists for weaning babies and toddlers, building confidence at mealtimes.

Dishwasher Safe
Designed to be durable and dishwasher safe washed at high temperature including commercial dishwashers.
The Nana's Manners Stage 2 Fork and Spoon sets are designed for toddlers aged 12 months plus. The fork and spoon sets are shaped especially to focus on supporting children's confidence-building whilst learning to eat foods independently. The handles are soft to touch, very comfortable, and perfectly sized to support your child's first introduction to using the left and right utensils as children learn to confidently develop their hand-to-eye co-ordination when eating.
The Fork and Spoon set's encouraging the use of Palmer Grasp whilst supporting the development of Pincer Grip movement - using the index fingers and thumb. This encourages and supports early fine motor skill development. Where children begin to develop and strengthen their smaller muscles. To support movements of the hands that require precise controls.
 This set is suitable for children aged 12 months +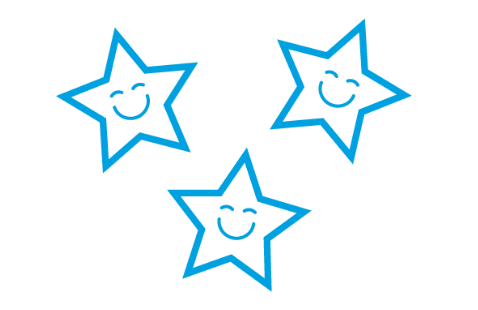 Happy,
Confident Kids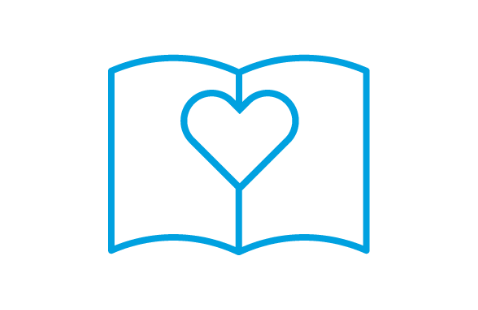 Love Learning,
For Life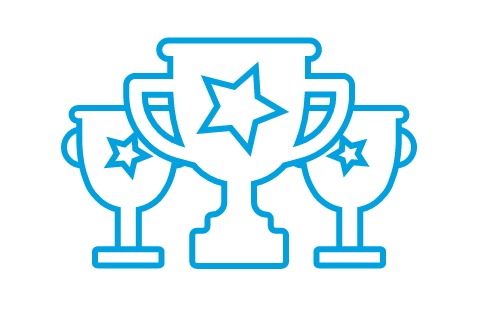 Multi
Award-Winning
Valued By Parents
Loved By Children
At around 12 months, Toddlers start showing signs that they are ready to use cutlery and are often keen to be feeding themselves independently. They will have been watching you eating closely and keen to copy what they see! This is a good point to introduce a spoon first for eating soft, but not too runny foods, such as thicker yoghurts. These will be more likely to stay on the spoon in the journey from the pot to their mouth! Our Stage 2 handles are designed perfectly for little hands and the unique shape supports your child's grip as it develops over this time. Once they are enjoying using the spoon, a fork can then be introduced to allow them to stab small pieces of soft food, such as cooked vegetables, cut up to the size suitable for them to eat. It is normal for children to get to grips with a fork slightly later, often 2-3yrs old. It will take them some time to realise the job the fork does versus the spoon, but they'll have great fun discovering this on their journey!
Nana's Manners Toddler Cutlery is designed for babies to use from 12 months old. The fork and spoon set is perfectly sized for little mouths. The handles have been shaped to fit perfectly into little hands encouraging their grip development using the Pincer and Palmer Grips.
Toddlers start showing signs that they are ready to use cutlery and are often keen to be feeding themselves independently. They will have been watching you eating closely and keen to copy what they see! There are a number of things that determine if your toddler needs special cutlery. Such as hand to eye coordination, children's motor skills and grip development, how well they can grip, prod, carve, use their shoulder movement, coordinate left and right hands and so on. All Nana's Manners Products support children's development and our childrens cutlery ranges are designed to support your child's journey through the weaning phase "toddler hood" into the primary school years. Our range is divided into three stages making it easy for you to understand what product is suitable for your child
Read more
Nana's Manners designs childrens cutlery to support childrens through their early years grip development. From their first use of weaning spoons to toddler cutlery as they build confidence using their hands Nana's Manners Childrens Cutlery knife and forks set when they are able to coordinate carving movements from the shoulder as well as using their left and right hands together. Nana's Manners weaning spoons, toddler cutlery and childrens are multi-award winning. Our patented childrens cutlery sets are used by the NHS, recommended by NHS and Pediatric professionals across the country. They are also used by schools and nurseries across the United Kingdom. At Nana's Manners we think parents can be the judge of what's best but we like to let the real experts do the talking - That includes the children who use them!